NFL Week 10 Predictions: Houston Texans, Seattle Seahawks Soar, Dallas Cowboys, N.Y. Jets Take A Dive
November 14, 2010 by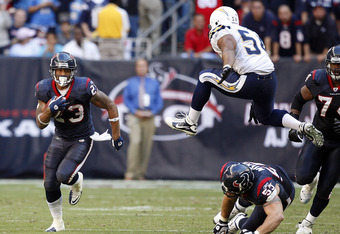 Bob Levey/Getty Images
Just like in the world of college football, rigorous escapes, stunning blowouts, ground-breaking upsets and thrilling barn-burners were raging like wildfire last week in the NFL.
Albeit we were unable to publish for Week 9 due to time constraints, we did make picks before all of the games took place and will point them out further along in this article.
This is a weekly series that is set apart from the rest with the fact that we don't just go through the motions by picking every game or just sticking to four games like some of the networks on television, despite the fact we enjoy all of that.  But rather, we diagnose six to seven games each week from Cowboys and Texans fans (not a great year, eh) to make things more interesting.
There's a terrific slate of games on Sunday's menu and here's a breakdown on all the great specials. 
1. Wildcard Picks
Michael Gartman (Texans FC)—Tennessee (5-3) at Miami (4-4)
Tennessee comes in well-rested off its much-needed bye week, while Miami lost its first road game of the season from a mediocre performance in Baltimore.  There's a quarterback controversy brewing with both teams, and I wouldn't be surprised if the ole veterans in Chad Pennington and Kerry Collins got the start.  Look for solid showings in every phase from both teams and it to come down to the last possession.  Randy Moss rocks the Titanic, and the Dolphins snag their first win at home in 2010.  Prediction: Miami 27, Tennessee 24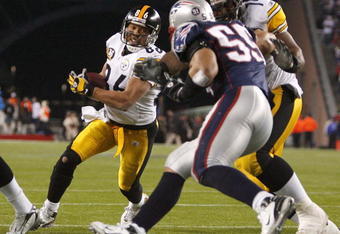 Jim Rogash/Getty Images
Ryan Cook (Packers FC)—New England (6-2) at Pittsburgh (6-2)
Call it the Game of the Week, the Game of the Year, or even the Game of the Decade, regardless, it's an inescapably pivotal matchup between NFL elites as the Patriots and Steelers set to do battle on Sunday Night Football.
Predictions for this game are simple.  Whichever defense plays the smartest and toughest will take home the victory. 
Bill Belichick and New England endured a blowout loss last week in Cleveland, while the Steel Curtain held on long enough to secure a win over division rival Cincinnati on Monday Night.  Prediction: New England 34, Pittsburgh 31
Stephen Kasper (Texans FC)—Baltimore (6-2) at Atlanta (6-2)
This game is included because Stephen chose to do just six games this week and had already posted his predictions in his own article earlier in the week.  He's also a Vet and it was just Veteran's Day, so he gets a well-deserved pass in our view.  Anyways, here's what he said.
Right now, to me, Baltimore is a potential Super Bowl team, and Atlanta is a possible division winner, at best.  But of course, that's no infinitesimal accomplishment.  Home-field advantage will aid Matt Ryan and company, but I'm taking Ed Reed and the relentless Ravens defense, which doesn't discriminate or care where they cause mayhem, to lead Baltimore to a win. 
Dilip Vishwanat/Getty Images
2. Blowout Picks
Michael Gartman (Texans FC)—St. Louis (4-4) at San Francisco (2-6)
Who would have thought the 49ers would start the year off 0-5?  And then could still make the playoffs…with Troy Smith starting at quarterback?  In this pivotal division clash, look for San Francisco to continue its recent success by pounding the football on the ground with the bloody fantastic Frank Gore against a Rams defense that often shows up unprepared in T-shirts.  Prediction: San Francisco 31, St. Louis 13
Ryan Cook (Packers FC)—Houston (4-4) at Jacksonville (4-4)
This is a battle between two teams currently tied as the bottom dwellers in the division, but both sides are looking to advance to the official third spot, staying in contention for not only playoff berth but the highly competitive AFC South.  This is the only division that lacks a losing team.  That notion will stay true until Sunday afternoon, barring a very doubtful result in a tie.  While David Garrard was near-perfect two weeks ago in Dallas and this week looks promising, the Texans should come out angry and hitting on all cylinders.  Prediction: Houston 31, Jacksonville 10
Otto Greule Jr/Getty Images
Stephen Kasper (Texans FC)—Seattle (4-4) at Arizona (3-5)
Arizona needs help—serious help.  The Cardinals can't seem to get the running game going and even with superstar Larry Fitzgerald, the passing attack has also been off the mark.  Albeit the defense has created some turnovers, I haven't seen enough that would make the 4-4 Seahawks, even on the road with recent struggles to quiver.  The Seahawks fly away with the victory.
3. Snoozer Picks
Michael Gartman (Texans FC)—Minnesota (3-5) at Chicago (5-3)
With Brett Favre and Jay Cutler having thrown interceptions at an alarming rate this season, the winner of this soon-to-be inner-division snoozer will commit the fewest number of turnovers. And the pressure will be boiling with Jared Allen and Julius Peppers on the field.  Sidney Rice doesn't play for the full 60 minutes but aids Favre for a couple of big plays to get the must-win.  Prediction: Minnesota 23, Chicago 19
Ryan Cook (Packers FC)—Seattle (4-4) at Arizona (3-5)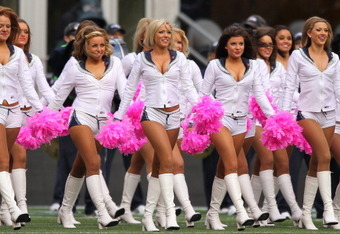 Otto Greule Jr/Getty Images
Seattle won its all important clash earlier in Week 6 against Arizona, but that was at home and now having been crushed in the last two weeks, the Seahawks can't continue to press the snooze button.  These are very similar teams, and these games mean the difference between first and fourth in the division.  To say that there are key players to watch in this game would be like clasping at straws.  Arizona weeps, as Seattle sweeps.  Prediction: Seattle 21, Arizona 17
Stephen Kasper (Texans FC)—Detroit (2-6) at Buffalo (0-8)
Buffalo has lost three straight games all by just three points and has clearly exemplified signs of getting its first win of the season.  But regardless if the Lions have Matt Stafford or the guy expected to take control for the remainder of the season in Shaun Hill, the Lions get the win.
4. Thriller Picks
Michael Gartman (Texans FC)—Philadelphia (5-3) at Washington (4-4)
It's Round 2 for Donovan McNabb against his former team.  But this time, Michael Vick is in the starting lineup.  Well at least right now.  Give Andy Reid a few minutes to change his mind.  In addition, Washington has more controversy and uncertainty at quarterback than Philly, as McNabb was pulled in his last game because coaches felt he wasn't in shape and wasn't familiar enough with the two-minute offense.  Look for a great rivalry game here, as McNabb and company move above .500 with a thrilling victory.  Prediction: Washington 26, Philadelphia 23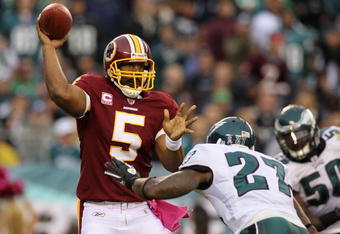 Jim McIsaac/Getty Images
Ryan Cook (Packers FC)—Kansas City (5-3) at Denver (2-6) 
Records and struggles aside, this AFC West clash is still exciting, even though both teams couldn't be further apart in the division standings right now.  Coming off a much needed bye week, Denver now looks to turn its season around in a respected manner, and at least go out with some confidence heading into next season.  But that might be easier said than done.
First, the Broncos offense is often atrocious.  Sparing Kyle Orton and Brandon Lloyd from this lecture, Denver's ground game has been flat as a track all season.  Moreover, with the offensive line beginning to collapse, salt continues to rub into a very sore and bloody wound.
Secondly, the Chiefs come to visit.  With a 5-3 record on the year, Kansas City has endured few hiccups, but Matt Cassel's 1,412 yards and 12 TDs on the season have certainly put any negative thoughts behind Head Coach Todd Haley.  Kansas City needs a win to maintain the AFC West lead over Oakland, while Denver just wants to diminish the levels of criticism. 
One may be more vital than the other, but don't write off the Broncos after a bye week.  Prediction: Denver 27, Kansas City 24 (OT)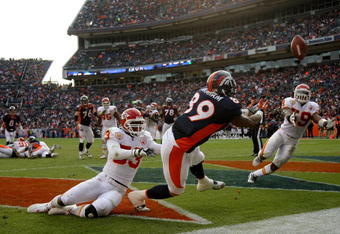 Doug Pensinger/Getty Images
Stephen Kasper (Texans FC)—St. Louis (4-4) at San Francisco (2-6)
The AFC West is one of two divisions that are a conundrum. The other is the NFC West.  At 4-4, St. Louis is in first place in the division, while San Francisco trails in last place with a 2-6 record.  And yet, somehow the 49ers are favored to win this game by a touchdown.  In spite of this, I'm on the Rams bandwagon with Sam Bradford making his run for Rookie of the Year.  Rams win.
5. Upset Picks
Michael Gartman (Texans FC)—Cincinnati (2-6) at Indianapolis (5-3)
At 2-6, coming off a short week and a tough loss against Pittsburgh, and now facing Peyton Manning, who is 6-0 and the Colts, who have won five straight at home against the Bengals, it would seem an upset in Lucas Oil Stadium, and more importantly, a chance at a playoff berth would be a no-show for T.O. and Ochocinco. 
But to paraphrase Chris Berman, "That's why they play the game!"  Cincinnati has lost its last five games—but just by 27 points combined.  Indianapolis comes off a disappointing loss in Philadelphia but is still riddled with injuries.  Even if it doesn't succeed, expect both offenses to persist in the ground game to create balance but air it out to keep the defense in check and swing the momentum of the game.  Cincy is 15-3 when Palmer has at least three passing TDs.  Prediction: Cincinnati 28, Indianapolis 24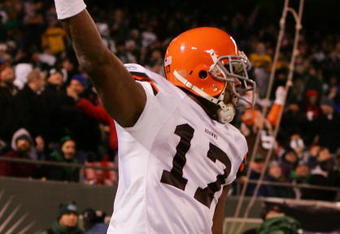 Jim McIsaac/Getty Images
Ryan Cook (Packers FC)—N.Y. Jets (6-2) at Cleveland (3-5)
Trick plays, turnovers, tons of humor, kicking and screaming should run high in this potential upset that looms in the Dawg Pound.  The Jets haven't exactly been soaring by leaps and bounds the last few weeks, being shut out by Green Bay and having to rally to beat Detroit in OT.  On the other side, Eric Mangini and Cleveland is actually excited with this season's results.  The Browns have knocked off the T.O. and the Ocho-no show Bengals, the defending Super Bowl Champion New Orleans Saints and last week against the Patriots in a steamroll.  Colt McCoy, Braylon Edwards, and the Ryan brother's names will come up frequently before, during, and days after a game that has "upset" written all over it.  Prediction: Cleveland 17, N.Y. Jets 13
Stephen Kasper (Texans FC)—Kansas City (5-3) at Denver (2-6)
Maybe I'm crazy here, but it's been a peculiar season in the NFL and in the spirit of the erratic outcomes in this division especially, I think I'm justifiable in saying anything can happen here.  The Chiefs are on upset alert and Josh McDaniels and the Broncos earn a hard-fought must-win. 
Sam Greenwood/Getty Images
6. Dallas/Houston Picks
Michael Gartman (Texans FC)—Houston (4-4) at Jacksonville (4-4)
I conducted game-by-game predictions for the Texans back in July, and it was quite a hit.  I gave Houston an 11-5 record and have been off in two of the games against the Bolts and Giants, but I'm still confident the team can get it done.  Here's the set I did for the first meeting with Jacksonville, with a slight change in wording for better accuracy and clarity.
Jacksonville comes off its bye week, trying to avoid a record of 4-5
Houston hasn't quite met its standards but now prepares to thrive
The Texans were swept last season by the Jags
But pieces things together, finding their swag
As they're the first team in this game to reach 35
Post-Limerick Commentary: It's been no picnic for the Texans in Jacksonville over the years, and the defensive performance hasn't exactly been a day at the beach this season for its supporters, either.  However, Houston did improve its defense earlier in the week by moving Brian Cushing back to his rightful spot at the strong side LB and acquired former first-round pick from Miami, CB Nate Allen, off waivers.  The Texans also have Matt Schaub, Andre Johnson, and up-and-coming undrafted superstar RB Arian Foster, who takes advantage of the Jaguars defense.  Prediction: Houston 35, Jacksonville 24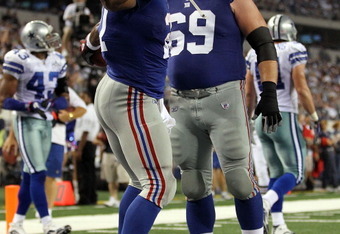 Ronald Martinez/Getty Images
Ryan Cook (Packers FC)—Dallas (1-7) at N.Y. Giants (6-2)
Just like no one expected the Cowboys to fall apart like a $2 suitcase, the Giants' rise to the top (outside of the Big Apple) has been labeled as unexpected this season.  Anyone with a half a brain is predicting the Giants to win this affair.  And we all use half our brain, so that's everyone.  Prediction:  N.Y. Giants 28, Dallas 10
Stephen Kasper (Texans FC)—Houston (4-4) at Jacksonville (4-4)
This division clash will produce more excitement, great pickups from Arian Foster and Maurice Jones-Drew and more yards through the air than the total number of users on Facebook.  Many signs point to a victory for Jacksonville, but I'm not giving up on Houston, who prevails. 
7. Other Picks (Optional)
Michael Gartman (Texans FC)—Detroit (2-6) at Buffalo (0-8)
CBSSports.com Senior Writer Pete Prisco said this game looks to be a "high-scoring game that should be fun for the 12 people who watch it."  I believe he hit the nail on the head with that one.  I've been a Lions fan for over a decade, I live in Tuscaloosa, AL, and just turned 18, so that should speak volumes on my support for this franchise.  But I'll wait to tune in until the 4th quarter.  Late in the 4th quarter.  The Bills are on pace to get a win very soon, and there's a great chance it'll come here, but the Lions are much-improved and I can't go against them here.  Prediction: Detroit 29, Buffalo 26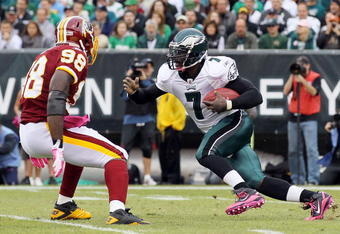 Jim McIsaac/Getty Images
Ryan Cook (Packers FC)—Philadelphia (5-3) at Washington (4-4)
Looking back on when these two teams last met, a lot was different.  Donovan McNabb was solid, the Redskins offense was rolling, and the Eagles were still flying around trying to discover their character under newly appointed QB Michael Vick.  Boy, how things have changed. 
McNabb has been accused of not fully understanding the Redskins offense, while at the same time, the Eagles sit second in the division behind the Giants but in a capable position to move into first place. 
Last week's pivotal win over Indianapolis could lead to overconfidence for Andy Reid and Philadelphia heading into Washington.  This game is always a good NFC East duel to keep an eye on, and even though the Donovan McNabb Returns" storyline is seemingly put to rest, the question of McNabb's talent is still a must-see in Week 10.  Prediction: Washington 27, Philadelphia 23
Confused About How the Picks Work?  Here's the explanation…
1. Your Wildcard Pick is aimed at a highly competitive and widely talked about matchup.
2. Your Blowout Pick is just the opposite.  Whether its game the "experts" overlook and just assume by default will be close, while you acknowledge it'll be one-sided, or it's obvious to practically every fan—this matchup will end in a blowout and fans leaving the venue early. 
3. Your third pick is a Snoozer.  Whether it's between two elites or Detroit and Jacksonville, this is thought to be a low-score game many may still love to see but only into the 4th quarter.
4. The Thriller Pick is divergent to the Snoozer, a high-scoring and crowd-pleasing affair. 
5. The Upset Pick is probably the most self-explanatory—the highly sought after David and Goliath selection.
6. Your sixth selection is either the Dallas Cowboys or Houston Texans game for regional and almost completely unnecessary and irrational purposes.
7. Your final pick is optional.  You can go with the team from Texas that didn't select above, or opt to take any other game on this week's schedule.  If you're on the money, you can beat the competition with a 5-2 record as opposed to a 4-2 display, or vice versa. 
Last Week's Results
Michael Gartman: 4-3
Ryan Cook: 4-3
Verse of this Piece
"Fools don't care if they sin, but honest people work at being right." — Proverbs 14:9
Formerly known as Sportscaster007, My Dad's Son has a written a verse with nearly every article since he began with his 50th piece. 
This is just something small to illustrate his glory for his Lord and Savior Jesus Christ.  Though you are under absolutely no obligation to read the scripture(s) I include, I believe this will be of benefit to your life and hope this will inspire someone to speak out about their love for God, without fear, and perhaps one day start somewhat of a trend.  God Bless and Carpe Diem!
(Note: Even if the article is published after one or more of the games have started, every prediction is always made before it's in action.  The predictions are never changed, unless it's a game that's several hours before kickoff.  We expect everyone who competes to play with the same standards.  All feedback is extremely welcome and appreciated.  If you possess some talent, experience, and skill in conducting predictions, you can make a request to join our crew!  Be sure to make your picks and compete against other members below in the comment section!)
Follow Michael's NFL coverage on the Houston Texans here: http://www.nfltouchdown.com/author/gartman  You can also follow Michael on his new Twitter account https://twitter.com/_My_Dads_Son_and Facebook Page http://www.facebook.com/pages/My-Dads-Son/132885193416367.  By Michael Gartman aka My Dad's Son (Texans Featured Columnist) on November 13, 2010
Follow Ryan Cook on Twitter.  Ryan is an Australian Featured Columnist for Bleacher Report. He is also an NFL columnist for Real Sports Net and a Green Bay Packers writer for Fan Huddle and PackerChatters. Ryan is also a contributing writer for Detroit Lions Talk, Gack Sports and Generation Y Sports.
| 2010 nfl playoffs, Cowboys vs. Giants, Dallas and Houston Fans Perspectives, Houston Texans Game Preview, Jets vs. Browns, NFL Week 10 Picks, NFL Week 10 Predictions, Patriots vs. Steelers